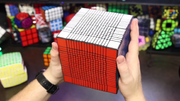 Over the Top is a world-record 17x17x17 Rubik's Cube. It was created by Oskar van Deventer.
Using 3-D printing technology from Shapeways, van Deventer's "Over the Top" cube took 60 hours and three attempts to make.
The said world record is in question, as there is now a fully functional 22x22x22 cube. See here: (https://www.youtube.com/watch?v=lzzD1aNsLVU).
Walkthough
Edit
Ad blocker interference detected!
Wikia is a free-to-use site that makes money from advertising. We have a modified experience for viewers using ad blockers

Wikia is not accessible if you've made further modifications. Remove the custom ad blocker rule(s) and the page will load as expected.