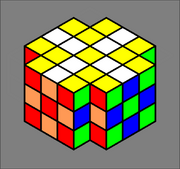 The
X-Cube
(referred to on this wiki as the "3x5x5 Super X-Cube" so as to
avoid confusing it with
the
Dino Cube
, which is also referred to by that name), was created in 2012 by
Dane Christianson
. It is a 3x5x5
cuboid
, with the corner columns of the 5x5 face omitted, so that the puzzle forms an X-shape.
It has from the start been offered by its inventor as a download for 3D printing (see the "About" section of the official site); it is also commercially manufactured, and available from Amazon. (See link from official site; if you don't live in North America, follow the link and then change the ".com" to the suffix for your regional Amazon.)
There is also an "X2-Cube" (3x7x7 with a 2x2x3 column omitted from each corner) and a planned "X-Cube 2" (2x4x4 with omitted corner columns).
Mechanism
Edit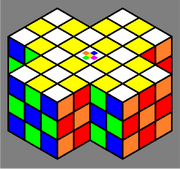 The X-Cube is essentially a
shape mod
of the
3x3x3
. The X2-Cube has more freedom of movement, but not much more due to internal bandaging; it handles somewhat like a
Professor Cube
.
Ad blocker interference detected!
Wikia is a free-to-use site that makes money from advertising. We have a modified experience for viewers using ad blockers

Wikia is not accessible if you've made further modifications. Remove the custom ad blocker rule(s) and the page will load as expected.