This article on WikiCube is outdated.
Please feel free to help by updating the article and putting in more recent events of the subject.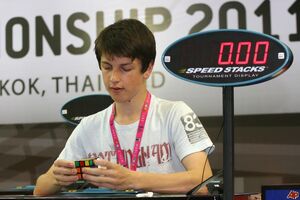 Feliks Zemdegs (born December 20, 1995) is an Australian speedcuber. Winning his first competition in New Zealand, he has set many records since. Currently, he holds three world records; the 7x7 cube, the fastest average for the Rubik's Cube, and the fastest average for the 5x5x5 cube.
Current World Records
Edit
| | | |
| --- | --- | --- |
| Solves | Resultes | Set at |
| 3x3x3 average | 6.54 | Melbourne Cube Day 2013 |
| 5x5x5 single | 48.42 | US Nationals 2014 |
| 5x5x5 average | 54.20 | TCG & Friends 2015 |
| 3x3x3 OH | 6.88 | Canberra Autumn 2015 |
Competitions attended
Edit
Competition Name
City
Date
World records set (Current records highlighted

thus

)
3x3 avg
4x4 avg
4x4 single
OH avg
5x5 single
5x5 avg
2x2 avg
3x3 single
6x6 single
6x6 avg
4x4 blindfold
OH single
New Zealand Championships
Wellington
Jul 2009
Melbourne Summer Open
Melbourne
Jan 2010
9.21
42.01
Melbourne Winter Open
Melbourne
Jun 2010
New Zealand Championships
Wellington
Jul 2010
8.52
35.55
Australian Nationals
Melbourne
Sep 2010
14.76
1:02.93
1:07.59
Asian Championship
Bangkok
Oct 2010
34.72,34.41
2.35
Melbourne Cube Day
Melbourne
Nov 2010
7.91
39.73,35.80
31.97
2.12
7.03, 6.77
Melbourne Summer Open
Melbourne
Jan 2011
7.87
1:01.59
1:07.01
6.65
2:05.88
2:15.64
3:37.80
Kubaroo Open
Melbourne
May 2011
31.05
14.41
6.24
11.16
Melbourne Winter Open
Melbourne
Jun 2011
7.64
30.88

6.18, 5.66

Australian Nationals 2011
Melbourne
Aug 2011
30.28
1:00.27
1:04.20
1:56.96
World Championship 2011
Bangkok
Oct 2011
35.22
59.27, 56.22
59.94
Melbourne Cube Day 2011
Melbourne
Nov 2011
Melbourne Summer 2012
Melbourne
Feb 2012
34.82
57.94