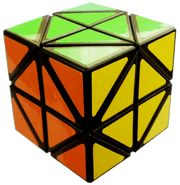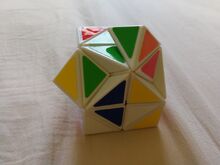 The Helicopter Cube was invented by Adam G. Cowan in 2006, though the idea was invented in 2005. It uses a different algorithm set from the other cubes.
It has 12 different turning points as it turns around the edges; the internal core mechanism is a rhombic dodecahedron. It can shapeshift.
This is a fairly straightforward puzzle to solve if the only moves used to shuffle it were scrambling moves (180° turns), and in this state is similar in solution to the Dino Cube, and not much more difficult; but if jumbling moves are used, it becomes a more difficult puzzle.
Jaap's Puzzle Pages has a handy guide to the Helicopter Cubes, including unjumbling/unscrambling instructions.