The term "mass produced" means that puzzles are produced in mass quantities. These include: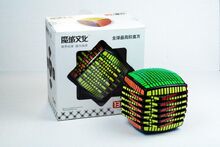 1x1x1 to 13x13x13
Kilominx to Zettaminx
Pyramorphix to Gigamorphix
Cuboids: Rubik's Bear, Floppy Cube, Domino Cube, Rubik's Tower, 3x3x5, 3x3x6, 3x3x7, 3x3x8, 3x3x9, 3x4x5, 4x4x5, 4x4x6, 4x5x5, etc. (The 4x5x6 and the 4x5x7 are NOT mass produced and those two were just examples.)
Skewb Series (Skewb, Skewb Ultimate, Skewb Xtreme, Skewb Diamond Series, etc.)
Gear Series (Gear Cube, Gear Ball, etc.)
Mirror Cube (3x3x3, 2x2x2)

Square 1 Series (Square 1, Square 2, Super Square 1, Two Layered Version)
Bandaged Cube
Latch Cube
Sudoku Cube
Rubik's Snake
Void Series (Void Cube, Holey Megaminx)
DaYan Gems 1 to 8
None of the icosahedron puzzles are mass produced. The Yottaminx is not mass produced. One would have to hand make the Monominx, the 1x1 Megaminx, in order to obtain it.
When a puzzle is not mass produced, the puzzle will usually cost over $200 (in some cases, over $1000) because it is so rare. That makes some puzzles really not worthy to get—but some, like the icosahedron puzzles including Dogics, are somewhat worth getting. In other cases, you have to hand make some puzzles like the Monominx and some other not mass produced puzzles, and though this sometimes saves money this takes too much time.
Ad blocker interference detected!
Wikia is a free-to-use site that makes money from advertising. We have a modified experience for viewers using ad blockers

Wikia is not accessible if you've made further modifications. Remove the custom ad blocker rule(s) and the page will load as expected.